Click here to download the 2018 Schedule for Trash – Recycling – Leaf Collection
Trash Collection
• Republic Services will be your exclusive residential trash and recycling provider beginning September 4, 2014.
• One 65-gallon recycling cart will be provided to each resident for every week collection at no additional charge.
• 95-gallon TRASH carts can be rented for $3.00 per month.
• Trash must be placed at the curb, no later than 6 am the day of collection.
ACCEPTABLE TRASH ITEMS: Items need to be cut and bundled in 4 foot sections under 75 lbs. each. Paint containers must be empty or solidified prior to being picked up. (Use kitty litter or sand to solidify left over paint. Glass, bottles and jars are acceptable but window panes, storm doors, etc. must be broken up and placed in a taped box marked glass. Appliances and air conditioners may be placed at the curb once refrigerants have been removed and the unit is properly tagged.
UNACCEPTABLE TRASH ITEMS: Under federal law, Republic Services is not permitted to accept Tires, batteries, liquids (ie. thinners, oils, acids) combustible materials, medical waste (ie. oxygen, tanks,
needles) or any items identified as hazardous.
Trash Collection: Dispose of waste in either the rental trash cart provided by Republic Services or you can use your own cart. Make sure the lid on your cart is closed, without packing your garbage too tightly. For collection place cart as close as possible to the curb or roadside, NOT on the street. Trash carts should not exceed 75 lb.
Disposal of excess garbage: If you find that you need an additional cart/s or want to schedule bulk item pickup, please call 1-800-543-1339.
What if I move: Do NOT take the carts with you. Please contact customer service at 1-800-543-1339.
Public Safety: Refuse collection can be hazardous. Make sure that children stay clear of curbside refuse and collection trucks. Curbside refuse should not impede pedestrian walkways or public thoroughfares.
Holiday Schedule: This schedule applies for all residential services (trash and recycle). Waste and recycling services will not occur on the holiday and all collection will be delayed by one day throughout the remainder of the week. Republic Service will be observing the following holidays:
• New Years Day
• Memorial Day
• Independence Day
• Labor Day
• Thanksgiving Day
• Christmas Day
Now Lets Recycle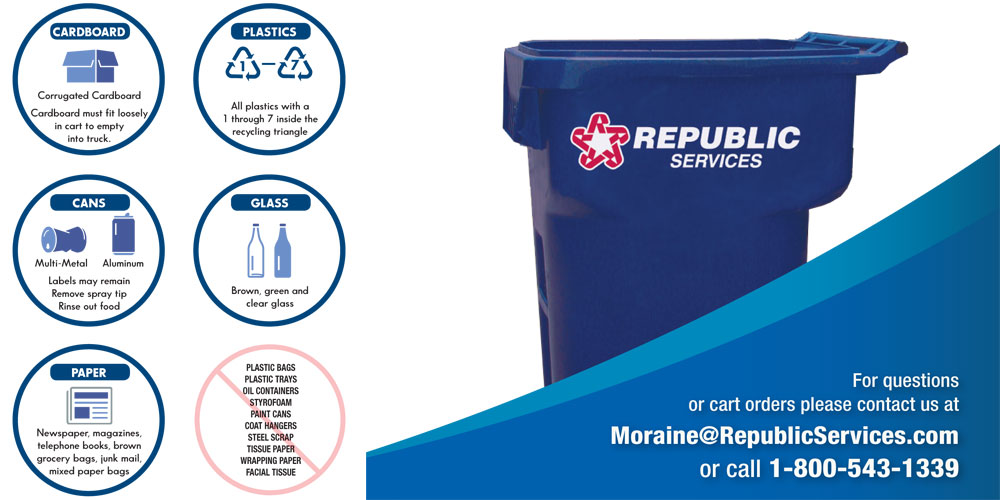 Days of service
Wednesday
Thursday
Friday
Blanchard
Bowman
Champion Oak
Dixie
Ellery
Fulton
Genoa
Janco
Jomar
Lamme
Lauderdale
Lehigh
Manistee
Marconi
Mays
Ned
Nyack
Oak
Old Sellars
Orange
Pensacola
Rand
Red Oak
Sibley
Springboro
White Oak
Willow Oak
Winwood
Angus
Blumen
Charlotte Mill
Collins
Dayton-Germantown
Dorf
Elrod
Farmersville-West Carrollton
Hemple
Herford
Infirmary
Johnson
Liberty-Ellerton
Loveland
Munich
Parallel
Paris
Payne
Pinnacle
Pinnacle Park
Schloss
Sellars
Shank
Soldiers Home Miamisburg
Soldiers Home West Carrollton
Trace
Union
Vance
Wienburg
Wiesen
Beechgrove
Cadillac
Clearview
Cottage
Cozy Camp
Dryden
East River
Elter
Gladstone
Holman
Hoylake
Kreitzer
Lakehurst
Main
Miami Shores
Outdoor
Shadyview
Shorelands
Southlawn
Swimming Hole
Telhurst
Trail On
Venetian
Viking
Willowview