City seeing 'steady uptick' in residential developments
One Dayton-area city has initiated new residential real estate projects to keep up with growing demands.
Two new residential real estate projects are underway in Moraine — Pinnacle Ridge and Wright Landing. These developments were initiated by the city to help meet incoming demand.
"Moraine, much like the region, has seen a steady uptick in new single family residential development," said City Manager Mike Davis. "There has also been a steady influx of rehabbing of existing and/or vacant homes throughout the city."
Pinnacle Ridge, located between Vance Road and Main Street, features single-family homes and main-level owner's suite homes with basements ranging from $180,000 to $225,000. The name for the development, led by Ryan Homes, comes from the views that can be seen from the residential lot's layout, including the Miami river and surrounding landscape.
The development's first phase is nearing completion, with its second phase starting to gain momentum. A total of 105 lots are being built, with many currently being sold. Several permits for homes have been issued as well, with construction underway.
Since this project began, the city has also seen an increase in demand for other housing, including new homes within Heritage Estates, located off Main Street in the city.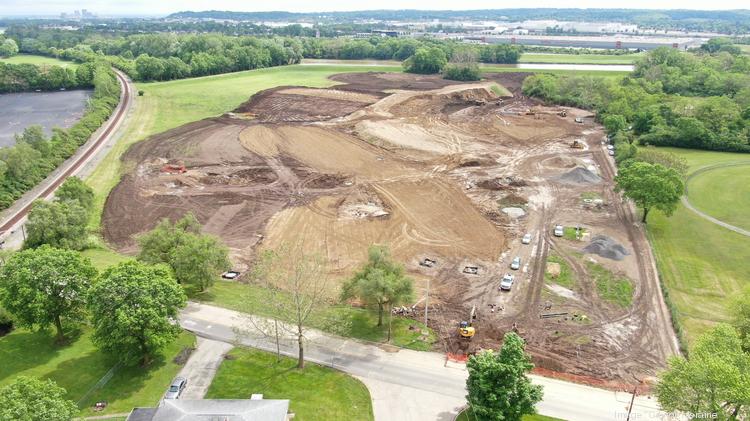 Another development making progress is Wright Landing, which is in its early stages. Matrix 5, a Dayton-based contractor, is currently moving dirt and aligning the site for infrastructure and lot layout. The subdivision is slated to have 53 total lots.
The subdivision, located on the east side of Vance Road in the city, will feature houses similar to Pinnacle Ridge, except without basements.
Moraine is a great place to live due to its services available to businesses and residential community, along with its potential for land development, according to Davis.
"We are also unique in being able to offer both a suburban and rural feel while having two major commercial and retail hubs along our north and south borders," he said.
DBJ